---
Arco a dryttoling
8. 3. 2008
By Nicolas Favresse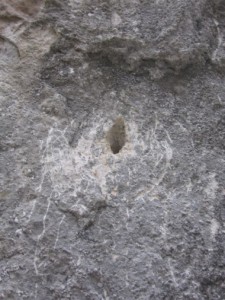 Marks from ice-axes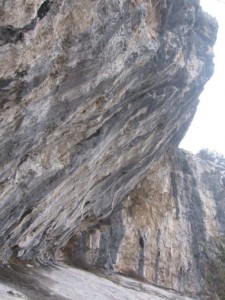 A new sector for dry-tooling in Arco
Marks from crampons
Marks from crampons
Hello,I want to share this with you.
The other day, I was scoping cliffs looking for natural lines to bolt that could possibily push my limits. Here is what I found. A beautiful cliff, probably one of the nicest I have seen in this area with a possible potential for hard new natural lines; instead, however, this wall is completely scarred with
pockets chipped by ice picks and scratch marks left by crampons. The scars are all over the wall. I was quite bummed, especially considering the fact there are so many cliffs in the area with shitty rock for rock
climbing.  
While dry tooling is a technique that brings climbing possibilities to a whole new level in the mountains, it now seems to be becoming more and more a discipline of its own. This could be understood as a natural evolution, given the impact of global warming. Indeed,
year after year the ice climbing season seems to be getting shorter and the walls that used to be full of ice expose more and more rock. The game is there and these days ice tools allow us to do all kinds of things. It's fun!
Many admirable climbers are proactive, working with environmental groups and others to protect our crags from excessive human impact. This impact seems to follow a broad spectrum, from using chalk, leaving tick marks, wearing climbing shoes, bolting, throwing your crashpad down at the base of a boulder...if we want to have no impact we'd have to stop climbing entirely. But activities such as dry tooling, leaving an irreversible imprint on the rock, seem to fall at the extreme end of the spectrum. Although, thankfully, there are no rules to control our climbing activities,
each of us should play our game with thoughtfulness and maturity. If we just take a moment to think outside of ourselves and our own instant gratification, we'd probably be able to find an
appropriate place for each activity that wouldn't take
away from the future. For example, why not dry tool in
an area that can sustain the impact, like a quarry or
an area whose rock isn't suitable for freeclimbing.  
My goal with this is not to prove what's right or
wrong. It's just to open our eyes to what's happening
out there and make us think, so that we can lessen our
impact at which ever level it is and share our ideas
with our friends.  
Have fun climbing
Komentáře
Přehled komentářů